When it comes to the best of the best sports cars, the Porsche Cayenne is an undeniable example of masterful engineering and design craftsmanship. With its unparalleled driving features, superior performance, and elegance, the Porsche Cayenne is making big moves in the high-end SUV business.
Rent Porsche Cayenne Dubai, to open the door to an exceptional driving experience. No matter whether you're on a road trip, attending a special event, or simply want to spice up your everyday commute. In this blog, we'll review the primary benefits of renting a Porsche Cayenne, which should be informative enough to plan and enjoy your entire holiday.
1. Unmatched Power and Performance
The all new Porsche Cayenne. is truly impressive and extraordinary. Not only is it strong but is also able to put up incredible performances when called upon. The Cayenne, expertly combines the agility and versatility of an SUV, with the rapid acceleration of a sports car, which comes with a range of potent engine options.
Get ready to feel your adrenaline shoot through you when you put your foot on the pedal. As even with a Porsche macan rent Dubai, you can accelerate to a remarkable speed. Surprisingly, the Cayenne can accelerate from 0 to 60 mph in as little as 3.7 seconds. A truly impressive feat for an SUV its size.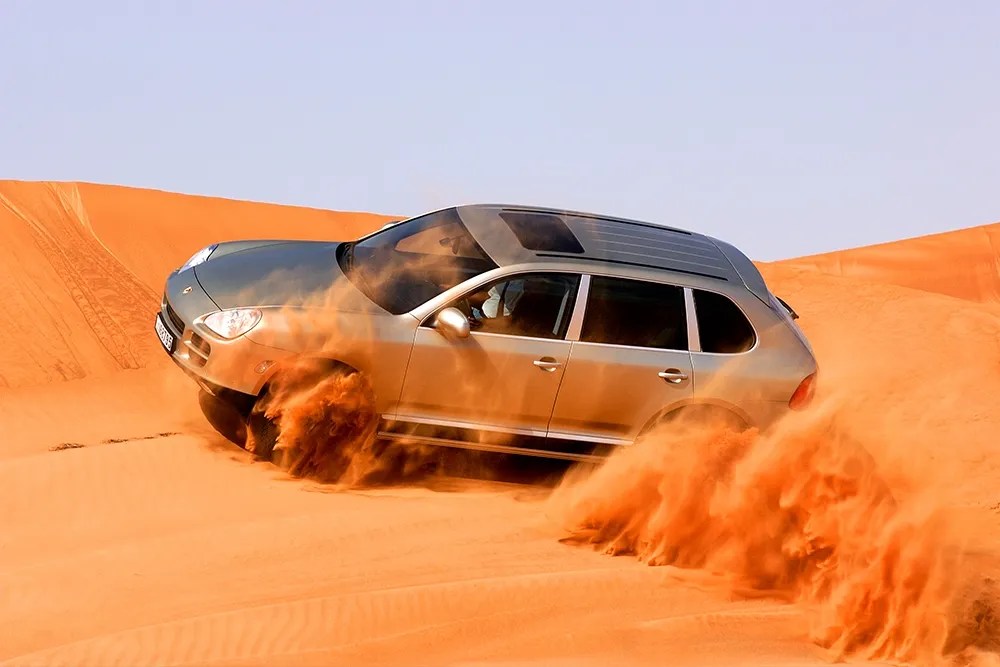 2. Exquisite Interior Craftsmanship
Entering the Porsche Cayenne's interior is like stepping into a world of sophisticated luxury. Superior materials and flawless craftsmanship create an atmosphere that screams luxury. Every component of the interior, from the luxurious leather seats to the painstaking attention to detail, is intended to surround you in elegance and relaxation.
Surprisingly, Porsche's sports cars frequently serve as the inspiration for the Cayenne's interior design, meaning that you're immersed in the essence of pure performance even while driving an SUV.
3. Cutting-Edge Technology
The Porsche Cayenne is crystal clear proof of the company's will and hard work to technological advancement. The Cayenne's cutting-edge technology allows for a seamless integration of entertainment, communication, and driver-aid systems.
With exceptional features like state-of-the-art safety technologies and user-friendly entertainment systems, the Cayenne ensures that you experience the future of automotive technology while you hire from a Porsche rental Dubai. What's even interesting is to note that the Cayenne has a night vision system. What this does is that it improves sight at night using infrared imaging —a high-tech that has undoubtedly raised the bar for convenience and safety.
4. Unmatched Handling
The Porsche Cayenne handles like a sports vehicle even with its size. A thrilling driving experience is enhanced by sophisticated chassis control, adaptable suspension technologies, and precise steering.
Rent Porsche cayenne Dubai, because no matter whether you're driving on busy city streets or narrow mountain roads, the Cayenne gives you assurance and accuracy every step of the way. Unexpectedly, the Cayenne's athletic heritage is incorporated into its engineering, giving it an edge in handling and agility that is uncommon among SUVs.
5. Adaptability for Any Occasion
The Porsche Cayenne has uprooted the notion which claims that elegance is offered at the cost of usability. This is because the Cayenne is completely customizable and elements can be added to meet your demands.
With plenty of storage space, movable seating arrangements, and towing capacity, this SUV moves slickly between duties, from weekend trips to shopping runs. Surprisingly, apart from when you rent Porsche 911 Dubai, the Cayenne has a remarkable towing capability of up to 7,700 pounds, which makes it a flexible partner for outdoor pursuits.
6. Outstanding Aesthetics
The Porsche Cayenne's style demonstrates the brand's dedication to artistic quality. On the road, its angular front grille, streamlined design, and sporty posture draw attention. Hiring a car from a Porsche panamera rental Dubai isn't only about getting about; it's also about creating a sophisticated and elegant impression.
Unexpectedly, Porsche's renowned 911 served as inspiration for the Cayenne's external design, creating an SUV that is both aesthetically pleasing and aerodynamically effective.
7. Enhanced Convenience and Comfort
The Porsche Cayenne's outstanding comfort features make long drives enjoyable. A wealth of conveniences, sophisticated temperature control, and adjustable seats make every trip an opulent getaway from the ordinary. Fascinatingly, the Cayenne's adjustable air suspension system modifies the vehicle's ground clearance for better off-road performance in addition to improving ride comfort.
8. Exceptional Driving Experience
While driving becomes more about getting from point A to point B, with a Porsche Cayenne, one can also enjoy the ride as the Porche places more importance on enjoying the driving experience. With the Porsche, one can experience the perfect balance of strength, accuracy, and luxury.
What will also be a pleasant surprise to a driver of the Porsche is to learn that one can adjust the Cayenne's driving modes. This can be adjusted so that your mood is boosted while the ambiance in the Porsche aims to match.
9. Enthralling Soundtrack
For fans of driving, the sound of the Porsche Cayenne's engine is like music. A symphony of power is produced by the precisely calibrated exhaust notes when you rent Porsche cayenne Dubai, which further improves the driving experience. It's interesting to note that Porsche engineers carefully designed the Cayenne's exhaust system to provide a unique and alluring sound that enhances the driving experience on a visceral level.
10. Accepting the Porsche tradition
For fans of speed and racing, the mere sound of the Porsche Cayenne's engine is like music to the ears. A symphony of power is produced by the precisely calibrated exhaust notes. This is a huge selling point for fans which further improves the driving experience. What's a must-know fact is that each of the Porsche engineers carefully designed the Cayenne's exhaust system to provide a unique yet exciting sound that thrills the driver and enhances the experience on a visceral level.