Dubai, a city of opulence and innovation, is a vibrant playground for travelers seeking unforgettable outdoor experiences. While Dubai boasts iconic skyscrapers and luxurious shopping, it also offers a treasure trove of natural beauty and outdoor adventures that are best explored with the freedom of a car rental.
In this blog, we will guide you through the best outdoor attractions to visit with car rentals in Dubai, where you can bask in the sun, marvel at desert landscapes, and enjoy thrilling adventures, all from the comfort of your own vehicle.
1. Dubai Desert Conservation Reserve
Your Dubai outdoor adventure begins in the stunning Dubai Desert Conservation Reserve. Located just a short drive from the city, this 87-square-mile desert sanctuary is home to pristine dunes, unique flora, and fauna.
With your car rental, you can explore the reserve at your own pace, taking in the breathtaking desert vistas and spotting Arabian oryx, gazelles, and indigenous birds. For an authentic desert experience, book a guided desert safari with our nearby car rental and witness the golden sands come alive during a thrilling dune bashing session.
2. Hatta
If you're looking to escape the city's hustle and bustle, a scenic drive to Hatta is a must. Nestled in the Hajar Mountains, Hatta is a picturesque oasis where you can enjoy the tranquility of serene lakes, mountains, and historic attractions. The Hatta Dam is a popular spot for kayaking, while the Hatta Heritage Village offers insights into traditional Emirati life.
A drive through the winding mountain roads is an adventure in itself, with opportunities to stop and admire the rugged beauty of the landscape.
3. Dubai Miracle Garden
Dubai Miracle Garden is a mesmerizing oasis of vibrant colors and fragrant blooms. This outdoor attraction is home to more than 150 million flowers, arranged in intricate patterns and designs. Stroll through the lush gardens and take in the sights and scents of the meticulously landscaped floral displays.
With our car rentals in Dubai, you can easily access this botanical wonder and immerse yourself in a world of natural beauty and creativity.
4. Dubai Parks and Resorts
For family-friendly outdoor entertainment, head to Dubai Parks and Resorts, a short drive from the city center. This sprawling theme park complex features several exciting attractions, including Motiongate Dubai, Bollywood Parks Dubai, and Legoland Dubai. From thrilling roller coasters to immersive movie-themed experiences, there's something for everyone to enjoy. With your car rental, you can conveniently explore all the parks in one visit.
5. Al Qudra Cycling Track
If you're a cycling enthusiast or simply wish to enjoy an active outdoor adventure, the Al Qudra Cycling Track is a must-visit destination. This extensive network of cycling paths spans over 80 kilometers, winding through the tranquil desert landscape and around the scenic Al Qudra Lakes.
Whether you're a novice or an experienced cyclist, the track offers various routes suitable for all levels. Enjoy a day of pedaling amidst the natural beauty of Dubai's desert and visit the fascinating cycling track today using your luxury car for rent, so you can cycle without any time constraints.
6. Dubai Creek
Dubai Creek is a historic waterway that divides the city into two districts: Deira and Bur Dubai. While it may not be a typical outdoor attraction, a drive along the banks of the creek offers a unique perspective of Dubai's heritage.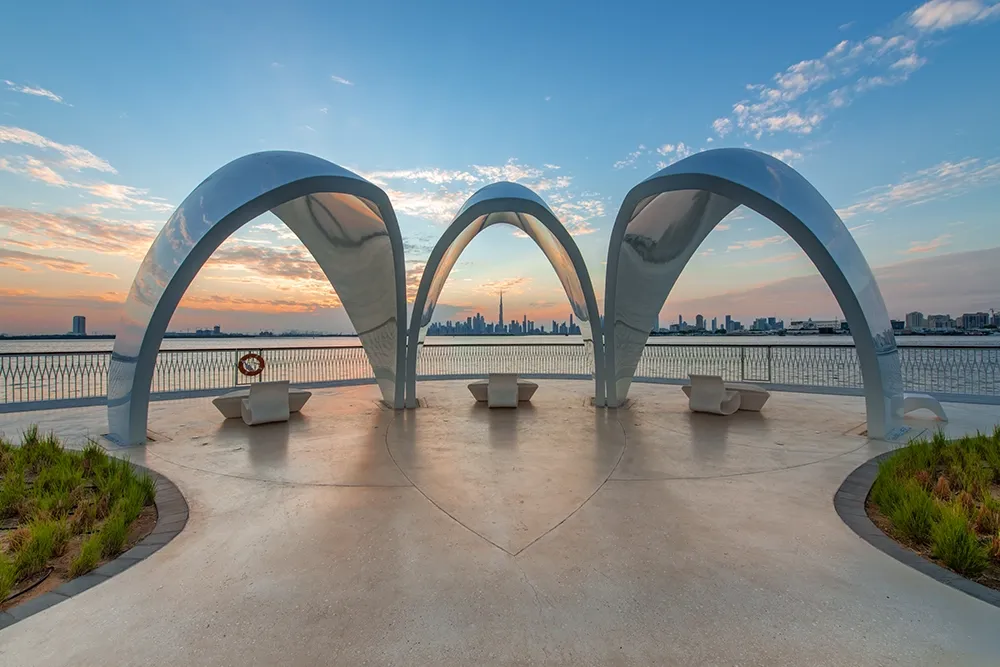 Explore the charming Al Fahidi Historical Neighborhood in Bur Dubai, with its narrow lanes and traditional wind-tower architecture. On the Deira side, visit the bustling souks, including the Gold Souk and Spice Souk. This cultural journey along the creek provides a glimpse into Dubai's rich past.
7. Ras Al Khor Wildlife Sanctuary
For nature enthusiasts and bird watchers, a visit to the Ras Al Khor Wildlife Sanctuary is a must. This protected wetland area is home to a diverse range of bird species, including flamingos, herons, and eagles.
When you select your option from car rentals near me, you can drive to designated viewing points and bird hides, allowing you to observe the wildlife in their natural habitat. The sanctuary is a peaceful escape from the urban landscape, providing a serene setting for nature lovers.
8. Jebel Jais
Venture beyond Dubai's city limits for a road trip to Jebel Jais, the tallest mountain in the United Arab Emirates. Located in the neighboring emirate of Ras Al Khaimah, Jebel Jais offers spectacular panoramic views from its summit.
The drive up the winding mountain road is an adventure in itself, with opportunities to stop and capture breathtaking photographs along the way. Once at the top, you can enjoy cooler temperatures, hiking trails, and the exhilarating Jebel Jais Flight - the world's longest zipline.
9. Kite Beach
Dubai's coastline is dotted with beautiful beaches, and Kite Beach is a favorite among residents and tourists. This sandy stretch is ideal for beachgoers, water sports enthusiasts, and families. With your car rental, you can easily access Kite Beach and enjoy activities such as paddleboarding, kite surfing, or simply relaxing by the shore. The beach also features a jogging track, beachside cafes, and views of the iconic Burj Al Arab.
10. Al Marmoom Desert Conservation Reserve
For those seeking a more off-the-beaten-path adventure, the Al Marmoom Desert Conservation Reserve offers a serene escape into the heart of the desert. This pristine desert landscape is a haven for wildlife and a peaceful retreat for nature enthusiasts. Drive through the reserve's tracks, go bird watching, or simply bask in the tranquility of the dunes. It's an opportunity to experience the raw beauty of the desert away from the city's hustle.
Dubai's outdoor attractions offer a diverse range of experiences, from the tranquil beauty of the desert to the vibrant colors of its gardens and the exhilarating adventures of its theme parks. With the flexibility of a car rental, you can explore these attractions at your own pace, creating memorable moments and capturing the essence of Dubai's natural and cultural wonders.
Whether you're a nature lover, an adventure seeker, or simply looking for a scenic drive, Dubai's outdoor attractions have something special in store for every traveler. So, hop in any of our car rentals in Dubai and embark on a journey through Dubai's breathtaking landscapes and outdoor marvels.