Tall buildings, massive shopping malls, glamorous beaches, and stunning exotic cars define the luxurious life of Dubai, but there is one more activity to complete this list; yacht rides.
Experiencing a luxury yacht charter in Dubai and exploring the charming sights of Palm Jumeirah, or the Marina will give you an instant boost of refreshment and happiness. That said, how does the idea of celebrating on a yacht sound? Incredible, given the spectacular views from it, and the comfort and privacy that comes along, it is an ideal setting for intimate functions.
In this blog, find out the top 5 events that you celebrate in the most unique way when you rent a yacht in Dubai.
1. A romantic proposal
Sailing on the clear, blue water of Dubai and feeling the cool breeze run through your hair naturally sets an environment that is perfect for proposing to your partner. Imagine asking your special someone to marry you at an exclusive yacht rental Marina along the majestic views of Ain Dubai in the background. This will surely be a day that you two always look back and cherish.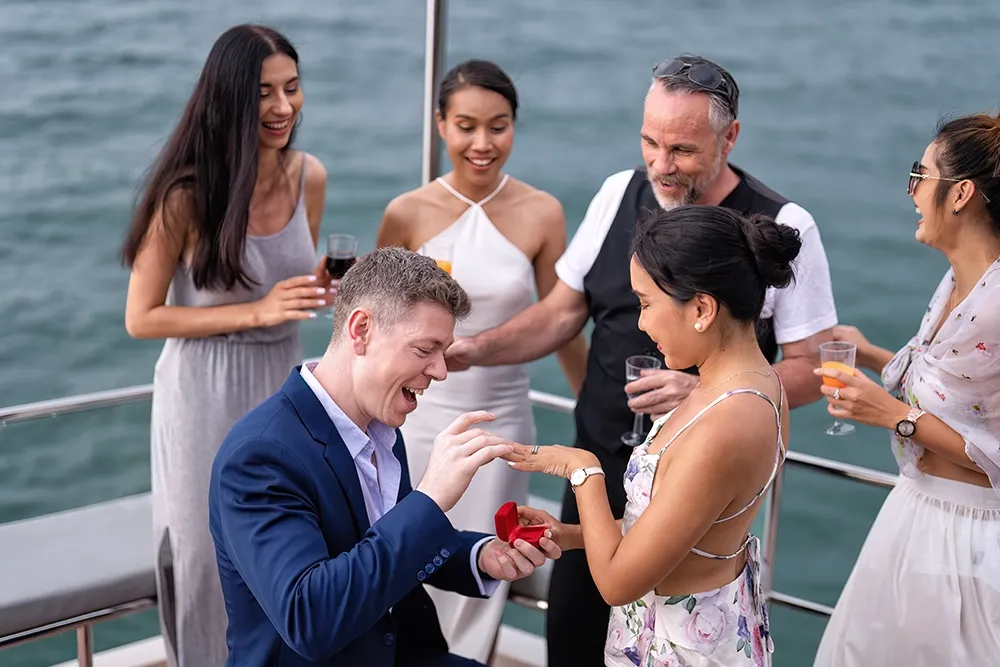 Booking your yacht rental service in Dubai with Beno will give you the chance to set up a beautiful theme, with matching décor and food items that you and your partner will love. Book your dream proposal in a few simple steps with Beno. Tell them your plans, and watch them work diligently to arrange and organize them.
2. Fun birthdays
Not every birthday celebration has to be formal and indoors, but instead outdoors and adventurous. Especially in Dubai, where you have the splendid option of celebrating birthdays on a yacht.
Thrilling water sports, incredible sightseeing, delicious food and drinks, and the finest luxury interior are some of the amazing advantages you get when you rent a yacht in Dubai for your birthday. Booking with Beno will make the process simpler and more convenient, as they not only provide top-notch yachts but also the best event planners and chefs in town. You can count on them to decorate the yacht as per your wish, including the color, theme, music, and dishes. You can also add live performances to keep your guests mesmerized.
3. An unforgettable wedding
Your wedding day has to be the most special day of all for you and your partner, which is why celebrating it over a yacht would be a wonderful idea. Picture this; you hold an intimate ceremony in the middle of the sea, surrounded by the soothing sound of waves, the views of the remarkable structures in Dubai, and luxury like never before.
Go for a private yacht booking Dubai and plan your big day with Beno. Leave it to the staff to cater to all your needs, including the setup, timely serving of food, and accommodation of the guests on its spacious desks or luxurious rooms. You can rent an exotic yacht at Jumeirah, and cruise around the iconic Burj-ul-Arab or the Palm Jumeirah so you can have an impressive wedding photo shoot.
4. Coolest graduation party
Graduating is surely a milestone that calls for celebration, given that you not only invest your time and money in it but also put in massive efforts to achieve this success. If you or someone in your close circle is graduating soon, make sure to celebrate on a yacht for a rare luxury experience.
Indulge in some quality time with your loved ones, as you celebrate your achievement while enjoying the many luxurious amenities on board when you rent a yacht in Dubai. Beno offers one-of-a-kind exclusive yachts with comfortable seating on the deck, deluxe bedrooms, modern bathrooms, and a fancy speaker system so you can divert your mind from studies and stress, and unwind in the best possible way.
5. A lavish New Year's Eve
Dubai's celebration of New Year's Eve is always a treat to the eyes, from the fascinating fireworks to the extravagant fountain shows and parties. Celebrating New Year's on a yacht is no less exciting, given that it provides an exclusive space for you to enjoy with your loved ones, away from the huge crowds. While crowded places add the thrill to the midnight festivities, not everyone prefers loud noises and long traffic queues.
This is where an exclusive yacht Dubai comes to the rescue, bringing along a private dance floor so you can shake to your favourite tunes without the worry of the public. You can also book a daytime tour with Beno, and indulge in exciting water activities they provide, like snorkeling, flyboarding, or jet skiing, all under the supervision of the professional staff onboard. Give a memorable start to your new year, and enjoy the fireworks from the comfort of your luxury yacht.