Shopping ranks in the top spots among the most popular activities in Dubai, given that the malls are extraordinary in structure and design. The glamorous city of Dubai is home to many shopping malls where one can find every brand, from international to local, all in a luxury setting.
That is not all, every shopping mall also includes recreational areas and top-ranked restaurants so you can enjoy a delicious meal in between your shopping runs. These points add up to make shopping in Dubai an exclusive and memorable experience. You can easily access every famous mall through public transport, like taxis, buses, or Dubai Metro, but for added convenience, choose a car rental in Dubai to book your own vehicle and relish its endless advantages.
Having your own vehicle from a rent a car Dubai grants you the freedom from long queues, time restrictions, and traveling exhaustion, so you can indulge in your shopping spree without worry. In the following blog, you will find out the 7 best shopping malls in Dubai, so the next time you plan to purchase quality clothes, home décor, or trendy gadgets, you know where to go.
1. The Dubai Mall
Landing in the top ranks amongst the list of largest malls in the world, the iconic Dubai Mall is more than just a shopping destination. Home to approximately 1300 stores, this record-breaking mall has an extensive variety of brands and restaurants to try. Make sure to visit this incredible spot using your car from car rental in Dubai, so you can explore the numerous attractions inside without worrying about the time.
Witness the thrill of ice skating in the Olympic-sized ice rink inside, or be awestruck as you view the thousands of sea creatures in the remarkable Dubai Aquarium and the Underwater Zoo. Or, unleash your adventurous side on the rides in the indoor theme park, and the spectacular VR park.
2. Dubai Marina Mall
Located in the stunning area of Marina, this mall not only offers a wonderful shopping experience but also a luxury dining experience with views of the waterfront. If you are looking for a mall where the whole family can enjoy, then rent a luxury car and take your family to Marina Mall, where you can find every shopping brand, traditional dining, and also a kid's play area, thus providing something for everyone. You can also enjoy a movie in the cinema situated in the mall, or admire the beautiful waterfront views on a luxury yacht ride.
3. Mall of the Emirates
Another widely recognized shopping mall in Dubai is the Mall of the Emirates, situated at the famous Sheikh Zayed Road. Its most remarkable attraction is Ski Dubai, a breathtaking indoor ski arena that takes you in the midst of snow and winter activities even when the temperature is scorching hot outside. Experience the excitement of skiing, the snowfall, and an unforgettable penguin encounter.
Other than that, it also includes some of the best restaurants in town, top-notch cinemas, arcades and rides, and the biggest brands.
4. Dubai Festival City Mall
Are you looking for a mall that offers an amazing shopping experience, along with distinctive attractions and stunning views where you could get ideal pictures for your Instagram? If yes, then the Dubai Festival City Mall is where you should head to.
Visiting this fun location in your own ride from a car rental in Dubai will be a smart move, as it will grant you the ease of carrying your shopping bags, without worrying about the space or adjustment in public transport. Witness the magical water and light show at the waterfront in this mall, or snap pictures with the mesmerizing views of the Festival wheel in the background.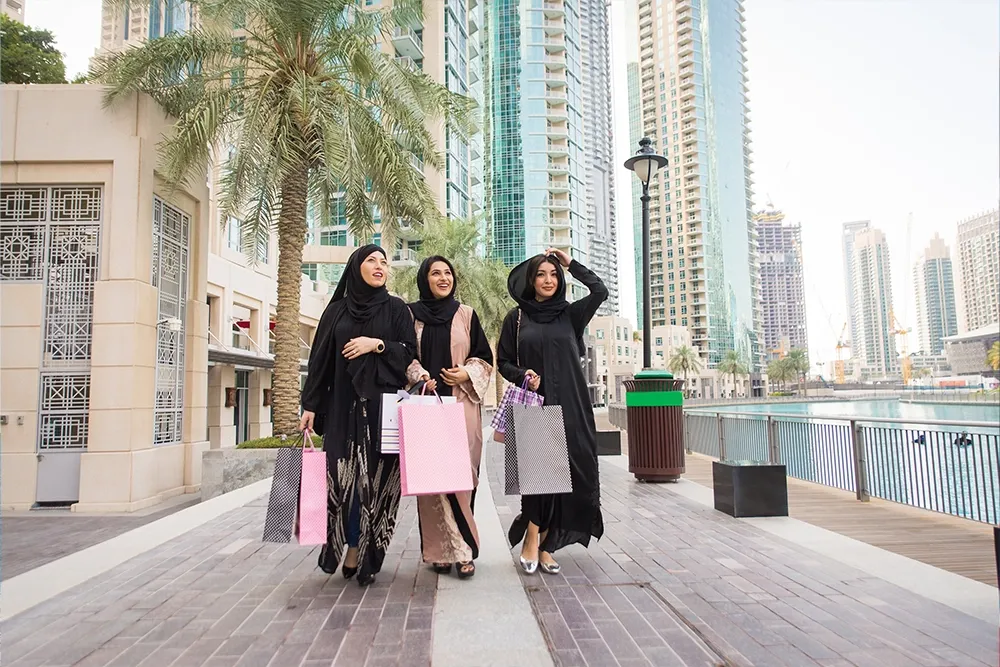 5. Ibn Battuta Mall
Located on Sheikh Zayed Road, this mall is named after a famous Arab traveler from the 1400s, who went on to explore India, Egypt, Persia, China, Tunisia, and Andalusia. Thus, this mall is also designed into 6 sections respectively. Each section has a unique theme as per the country it follows and offers a spectacular view for the shopping fans. Shop from your favorite brands, or eat at pretty restaurants inside. Also, prepare to be amazed by the outstanding designs on the ceilings, and a huge elephant statue that you will spot when you visit the Indian court in the incredible Ibn Battuta Mall.
6. Wafi Mall
With an impressive design based upon ancient Egypt, this mall, located on the Oud Metha Road, is a shopping mall that will take you into a traditional Egyptian era, with its phenomenal, huge statues, and a wide variety of shops selling traditional items and dresses. If you would like to shop while feeling like you are in the streets of ancient Egypt, go over to Wafi Mall where you can admire the carvings, or dine in and enjoy appetizing food at the cafes and restaurants inside. Consider renting a car when you plan to explore this wonderful place, so you roam around without worrying about missing the bus or having the metro stop operating as it gets late.
7. City Centre Mirdiff
Constructed over a vast area, this shopping mall includes everything, from luxury brands to grocery shopping in Carrefour. Find your favorite clothing or shoe brands, and avail the many exciting discount packages the mall offers. City Centre Mirdiff is an ideal spot to visit with your family or friends, as it is home to some of the leading restaurants, and has unique attractions that will help you relax and unwind when you get tired from all the shopping.
One can never get tired when roaming around the fantastic shopping malls in Dubai, given that each mall has fascinating designs, endless shopping opportunities, and numerous options for leisure and entertainment. Dive into the world of wonders when you explore these places with your car for rent Dubai, and live through a memorable shopping experience.