The incredible city of Dubai has so much to offer, including record-breaking tall structures, enormous shopping malls, thrilling water sports, adrenaline-filled outdoor activities, and ultra-luxurious exotic cars. It is not unusual to spot the latest models of Lamborghini when you roam the streets of famous areas like Dubai Marina and Jumeirah.
If you have dreamed of driving across the stunning skyline on the Sheikh Zayed road, or through the iconic Palm Jumeirah in a Lamborghini, this blog is just the right guide for you. Buying a Lamborghini not only comes with a huge cost but also brings the worry of costly maintenance, which is why we suggest renting one from a Lamborghini rental Dubai.
Besides, even if you choose to buy an exotic car like Lamborghini, you must be fully aware of its characteristics, functions, and working, before investing such a hefty amount. Therefore, when you rent a Lamborghini in Dubai, you can try different models, take them for a drive, test their features, and eventually decide which one suits you the best.
Continue reading below to find out the top-leading Lamborghini models in Dubai, so you can look for them when you visit a luxury car rental.
Huracan Spyder
If you are into cars that offer exceedingly high speeds and combine luxury, spectacular looks, and outstanding power, then the Lamborghini Huracan Spyder is an ideal choice. With its V10 engine and 640 horsepower, prepare to witness the ultimate sports car experience on the lavish roads of Dubai.
Indulge in high-tech built-in features including an 8.4-inch touchscreen system that gives access to endless entertainment and luxury when you choose Lamborghini Huracan rental Dubai. Relax on the highly comfortable seats, designed with perfection, and made from the finest leather and top-quality materials. It also features innovative speed alerts and real-time traffic information to grant you the utmost safety and alertness on the road.
As for the exterior, the wonderful convertible feature will let you admire Dubai and its famous landmarks like never before. Its sleek design is structured to cut through the air so you can enjoy a fast, but ultra-smooth ride in your Lamborghini for rent.
Urus SUV
A luxurious SUV but with the power and functionality of a supercar, how does that sound? Shocking, but this is exactly what the Lamborghini Urus offers. The perfect vehicle if you wish to travel around Dubai in style with your family or a group of friends.
Loaded with a 4.0-liter twin-turbo V8 engine and a phenomenal design on the exterior and interior, prepare to witness an effortlessly smooth and fun drive when you rent a Urus SUV from a Lamborghini rental Dubai. Since Dubai includes beautiful deserts, it is preferable to choose a car that not only runs well on the road but can also make it convenient to drive over the sand dunes in deserts.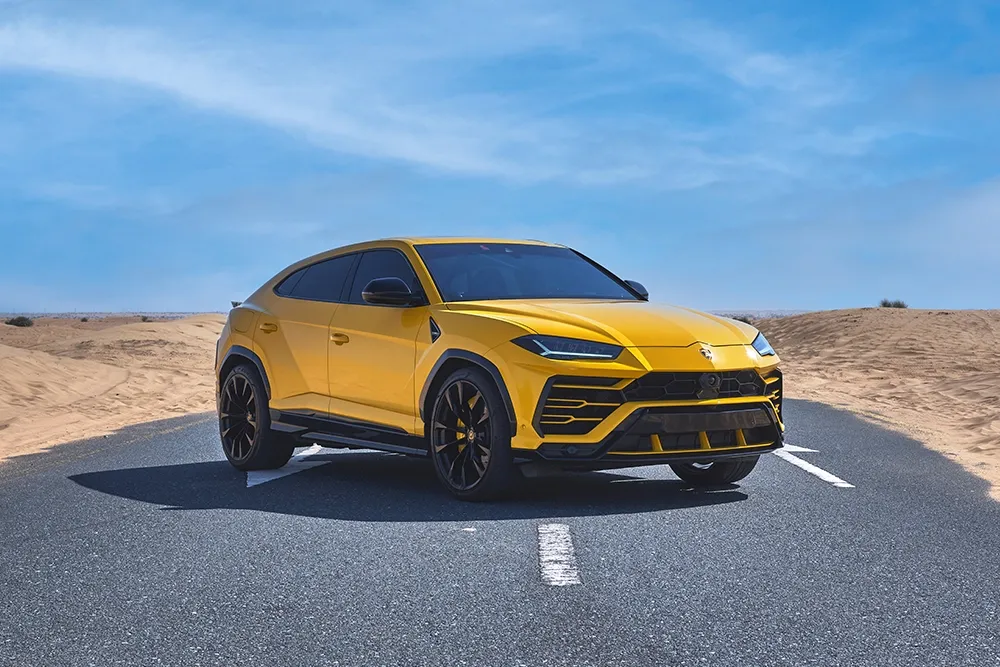 Urus features the ability to take on rocks, sand, and even ice, with its great strength and capability to manage any road condition. If you rent Lamborghini Urus Dubai, you will admire its bold design that includes a carbon fiber roof, and a spacious interior that radiates beauty and elegance. Fitted with premium quality leather seats and the latest tech system that features enhanced navigation, safety, and a Wi-Fi hotspot, prepare to experience comfort and entertainment in an unmatched way.
Huracan STO
Another fascinating sports car from the Huracan series, the STO not only brings extreme power but combines it with advanced technology features that will give you the feels of driving over a racing track. With its mind-blowing V10 engine, sharply designed structure, and lightweight body, witness the ultimate high performance of a Lamborghini supercar when you rent the Huracan STO from a Lamborghini rental Dubai.
Created with the finest quality materials, usually carbon fiber, its interior offers a stylish look for a sports vehicle. It includes exceptional, and comfortable seating along with an advanced technology system that offers modernized navigation, car finder, speed, and curfew alert, as well as Apple and Android car play entertainment system.
As for the exterior, given that this car is specifically designed to remain lightweight, the structure features carbon fiber in most of its body parts, which contributes to its high-speed performance. Indulge in a magical experience of thrill, luxury, and high class when you drive a Lamborghini rent Dubai.
For a hassle-free and convenient booking experience, try renting it from Beno, a leading luxury marketplace in Dubai. Find the latest models with remarkable features when you explore the vast collection of Lamborghini at Beno, and rent your preferred one in a few simple steps from the Beno rental app.