The gym is undoubtedly the perfect place to keep your health in the perfect state, but it is not the only place you should depend on. Our bodies, and especially our mind, requires a retreat for relaxation every now and then. That includes easing up in some meditation or yoga, or simply just basking in the sun for the necessary intake of vitamin D.
That said, if you are in Dubai, there is no better way to lay back and relax than on a luxury yacht charter. Not only does it guarantee a soothing atmosphere to meditate and destress, but also includes multiple other fitness activities, that will be explored in the following blog.
Continue reading to find out why a yacht rental in Dubai is an ideal way to unwind from your otherwise busy routine because your mind and body need some thrill every once in a while.
Maintain fitness with water sports
Indulging in water activities is not only a great way to spend Dubai summers, but is also an amazing method to retain your fitness, and improve your stamina. When you rent a luxury yacht from Beno, you can avail exciting packages with multiple water sports; including jet skiing, flyboarding, banana boat riding, donut riding, and also snorkeling, with professional equipment and guidance.
That said, the instant rush of adrenaline that you feel when you take on a speedy water ride eventually boosts your mood and you end up feeling joyous. The jet ski and flyboarding experience also improves your balancing skills, as well as strengthens your core. Whereas snorkeling or deep-sea swimming provides a fantastic full-body workout.
Relaxation through yoga
Dubai has a fast-paced life, and regardless of whether you are a resident or a tourist, there is always so much to do, and so much to see. Thus, when the weekend arrives, our natural instinct is to go out and explore the magnificent attraction that this glamorous city offers.
However, even touring around can get tiring at times, so here is a wonderful alternative to spend your weekend; on a yacht rental in Dubai. Imagine taking part in a peaceful yoga session with the soothing sounds of the waves in the background. There is no better way to distract your thoughts from deadlines and your lengthy to-do list, than by stretching and meditating while you are out in nature.
Luxury yachts in Dubai Marina provide spectacular scenic views, as it cruises along the stunning views of Ain Dubai, and you can feel your mind and body calming down as you admire the crystal-clear waters.
Necessary exposure to the sun
It is understandable to escape the scorching heat of the summers and spend your maximum time indoors, but our bodies require a certain amount of sunlight exposure regularly to remain healthy. It is especially helpful for our bones, as direct sunlight provides vitamin D, which eventually strengthens the bones in our body.
One interesting way to soak up the sun is to do it on yacht hire Dubai, where you can lay down on the deck and close your eyes as you take in the sunlight, while also enjoying the beautiful sound of waves crashing. Otherwise, you can take your favorite book along and read it in the quiet, peaceful atmosphere, away from the hustle and bustle of the city.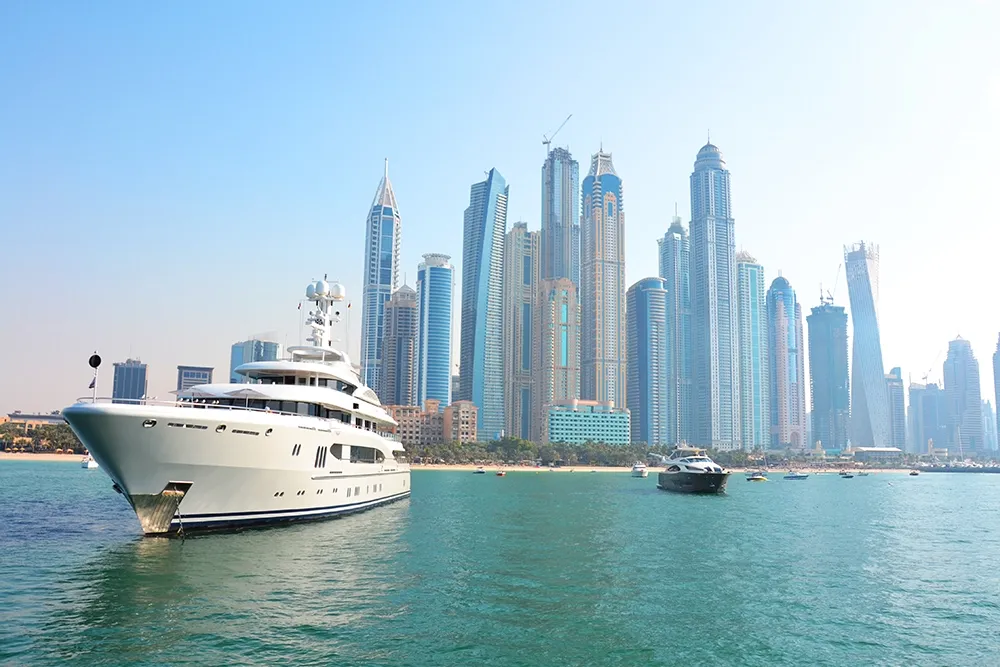 When you book a yacht trip Dubai with Beno, you can also play your choice of tunes on the up-to-date sound system that comes on their yachts, and have fun in the sun with some dance moves. Have your vital intake of vitamin D in the utmost luxurious way.
Relish in some healthy food
To complete your fitness journey on a yacht rental in Dubai, it is important that you not only participate in exercises or water sports but also give your body a healthy diet and essential nutrients. The luxury yachts at Beno come with packages where you can customize the food items and have them cooked by the best chefs in town.
The courteous and professional staff in the Beno yachts will provide you with timely food and drinks of your choice. All you have to do is tell them your requirements and watch them fulfill them perfectly, so you can have an uncommon luxury experience on your yacht for rent Dubai.
Try the Beno Experience
Although you can have an ideal relaxation day on a luxury yacht just by watching the fascinating views or having a delicious on the spacious deck, or the cozy indoors, you can also experience a unique fitness experience with Beno. They provide custom packages and programs for those who want to practice fitness in luxury, where you can indulge in an ice bath, a spa treatment, or avail a refreshing body massage, all while on a yacht.
Book your exclusive yacht rental Dubai with Beno, and live through exciting healthy activities with your loved ones, or a group of fitness enthusiasts.