For those looking for a lavish and exceptional experience, Dubai's blue seas and affluent lifestyle make it an unavoidable visit. A Dubai yacht rental company provides the ideal balance of leisure and exploration, as well as the chance to cool down in the clear waters of the Arabian Gulf. But swimming from a boat necessitates meticulous preparation and respect to safety guidelines.
In this post, we provide crucial advice to make sure you have a thrilling and safe swim when renting a boat in Dubai.
Verify safety precautions with the yacht rental
It's essential to fully comprehend the safety precautions offered by the yacht charter before setting sail. Ensure that all visitors are given a thorough explanation of life jackets, safety gear, and rescue procedures. Learn the layout of the boat, including where the safety features and emergency exits are located. By implementing these safety measures, you may swim with confidence knowing that your safety is our first priority.
Designated Swimming Areas
Dubai yacht rental frequently designates particular swimming spots that are secure for visitors. These locations are selected with care to stay away from strong currents, underwater dangers, and boat traffic. Follow these rules and avoid swimming outside the permitted areas. A safe and pleasurable swimming experience is ensured by staying inside the designated zones, while the chance of accidents is reduced.
Respect Crew Instructions
The yacht rental company has a crew made up of seasoned specialists who are knowledgeable in yacht operations and safety protocols. Pay close attention to their advice when it comes to swimming in particular. They can offer useful information about the present situation, prospective risks, and the ideal times to go swimming. Respecting their recommendations promotes teamwork and guarantees that everyone onboard enjoys a satisfying and secure experience.
Check Water Conditions
Dubai's seas might be calm or a little bit rough. Consider the condition and clarity of the water before starting your swim. Avoid swimming in choppy seas since they might put your safety in danger from powerful currents and waves. Also, on your yacht rental keep an eye out for any aquatic creatures that may be in the vicinity. Ask the crew of the boat for advice if you are unclear about the circumstances.
Using Proper Swim Gear
Swimming when on a luxury yacht in the Arabian Gulf's open waters demands the usage of proper swim gear. Choose a swimsuit that is both comfortable and well-fitting and that allows for easy mobility. To shield your skin from the sun's rays, think about putting on a rash guard or swim shirt. Additionally, be sure that your swimwear is in good condition and free of rips or damage.
Mind Your Health and Hygiene
Make sure you are healthy and clear of any communicable diseases before going swimming. Swimming in Dubai's warm seas may be a soothing experience, but keep in mind to drink enough water and use sunscreen. Apply sunscreen frequently to avoid sunburn, and remain hydrated the entire time you're on your boat voyage by drinking lots of water.
Children's Safety First
The safety of the youngsters you are bringing aboard a luxury yacht in Dubai is of the highest concern. Even if they are competent swimmers, make sure they always wear the proper life jackets. When near or in the water, children should always be under the supervision of an adult. Inform children as well about the specified swimming areas and the need of following safety precautions.
Follow Environmental Guidelines
Avoid littering and don't drop anything into the water to show respect for the environment. Diverse marine species may be found in Dubai's waterways, therefore protecting the ecology is crucial. Follow the environmental rules for the Dubai luxury yacht hire and make sure all garbage is disposed of appropriately on the vessel.
Be Mindful of Currents and Tides
Currents and tides can alter even in regions where swimming is allowed. Examine the currents' direction and pay attention to any changes before getting in the water or before yacht booking. Swimming straight against strong currents should be avoided since it might become exhausting. To reach calmer seas, swim perpendicular to the beach instead.
Stay Visible and Close to the Yacht
Make sure the crew and other passengers on the boat can see you while you're swimming. Stay close to the boat at all times since it might be difficult to see swimmers from a distance. You may simply return to the boat if necessary by staying within a fair range, and crew members can keep a close check on every visitor by doing so.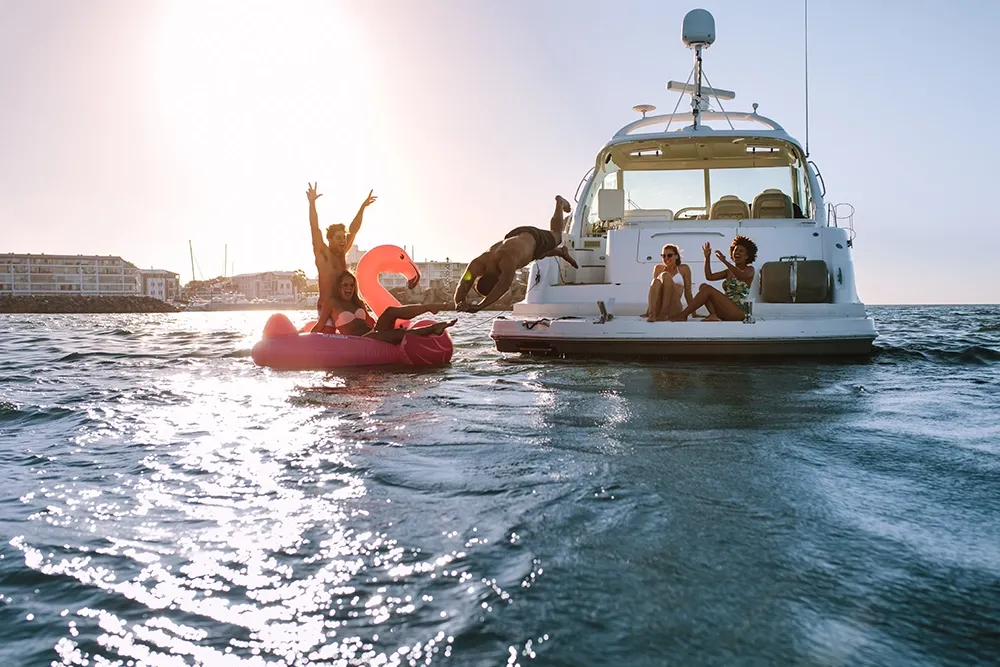 Finally, if you prioritize safety and follow important rules, swimming on a yacht from a Dubai yacht rental company may be a wonderful and invigorating experience. You can have a safe and opulent swim in Dubai's stunning waters by checking the safety precautions with the yacht charter.
Additionally, using designated swimming areas, adhering to crew instructions, checking the water conditions, using appropriate swim gear, minding your health and hygiene, prioritizing children's safety, following environmental guidelines, being aware of currents and tides, and remaining visible and close to the yacht all help to make swimming safer. Do not forget that a prepared and cautious approach guarantees that your boat charter will be both pleasurable and memorable.