For those looking for the height of luxury and pleasure, Dubai, famed for its extravagant lifestyle and gorgeous shoreline, provides an outstanding location. Opt for a luxury yacht rental in Dubai, as it is the ideal method to enhance your experience, whether it is a special occasion, a business function, or a wish to enjoy the pure splendor of sailing on the Arabian Gulf.
The definitive guide to the top 10 luxury yacht rentals with Beno in Dubai is provided in this blog article. Prepare yourself for a voyage of unmatched elegance, first-rate service, and unique experiences at sea.
SANTORINI
Discover the pinnacle of luxury in Dubai on board our 115-foot Santorini Superyacht from our luxury yacht rental in Dubai. It features opulent facilities, including five opulent rooms, a large salon with a dining area and bar, a roomy Flybridge, a jacuzzi, and exciting water sports activities. It has a charter capacity of 80 passengers and can accommodate up to 12 people overnight. On this amazing cruise, indulge in unrivaled elegance, refinement, and magnificence.
LAMBORGHINI
The BENO X LAMBORGHINI special cooperation is a lavish sailing experience. Each of the two cabins aboard the 63-foot superyacht has an own bathroom that has been specially designed for it. Beno also selected the special number 63/63 from among the 63 Lamborghini yachts in existence.
JUDE
Aboard Jude, a 74-foot luxury yacht, experience the height of grandeur. This sailyacht, which has been meticulously constructed with artisan furniture and exquisite details, offers a remarkable sailing experience. Perfect to rent a yacht in Dubai for party, Jude can accommodate up to 30 people and has a large Flybridge, a sunbed area facing the ocean, and stylish interiors furnished with Italian furniture. Enjoy luxury while sailing wide waters.
JULIA
Discover the appeal of the Manhattan 60 Julia, a yacht that exudes charm and affluence. With three seating spaces, a flexible main salon, a flybridge with dining and BBQ amenities, and a large sunbed area, this 64-foot yacht provides opulent accommodations for 6 guests in a Master Stateroom, VIP Cabin, and Twin Guest Cabin. Set sail on an alluring voyage of elegance and luxury.
ARYA
As you set off on an exciting adventure on the 42-foot Arya yacht, lose yourself in a world of style and speed. This vessel from our small yacht rental Dubai delivers the ideal blend of elegance and comfort thanks to its remarkable performance and beautiful design. Arya welcomes you to enjoy the utmost enjoyment on the wide seas with her stylish décor, roomy lounging places, and devoted crew of 7.
This luxurious yacht can accommodate up to 10 people and has a VIP Cabin, Twin Guest Cabin, and a Flybridge with a sunbed and BBQ space for lovely al fresco eating. As you set sail on the Arya, where elegance, speed, and complete enjoyment await, be ready to be delighted by the opulent facilities and superb service.
KONA
Discover the outstanding cruising of the 110-foot Kona Yacht from our luxury yacht rental in Dubai, which provides plenty of room for entertainment and leisure. With five bedrooms that can accommodate up to 60 people, first-rate service, opulent amenities, and cutting-edge safety features, you can revel in the ideal balance of comfort, luxury, and peace of mind.
SAN LORENZO
Introducing the 82-foot San Lorenzo Yacht, a yacht that provides an exceptional sailing experience. With three staterooms and enough for 50 guests, this yacht offers roomy quarters. It is run by a hardworking three-person crew and has four bathrooms, a fully functional kitchen, air conditioning, a flybridge, a music system, and sunbeds. On the San Lorenzo Yacht, take pleasure in the finest amenities and entertainment.
ASTRA
The Astra Yacht, a 76-foot yacht that offers an unrivaled sailing experience, lets you experience the pinnacle of luxury. Enjoy the roomy rooms, first-rate features, and committed assistance of a knowledgeable staff.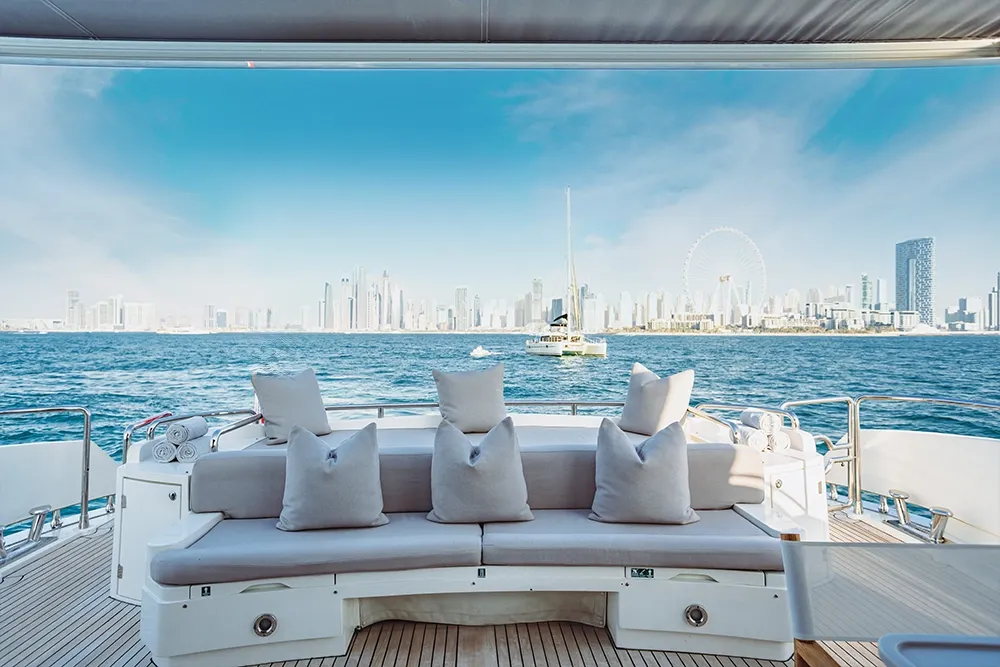 AMOTEA
Welcome to the AMOTEA yacht, a magnificent ship that epitomizes luxury and sophistication. This yacht hire Dubai provides a genuinely luxurious experience because to its amazing size and chic design. The AMOTEA yacht offers roomy cabins, first-rate facilities, and a committed staff to ensure a pleasant voyage.
SURA
Introducing the Sura yacht, a magnificent ship that blends comfort and elegance. This yacht, which is 68 feet long and has two opulent staterooms, can hold up to 15 people. It is run by a hardworking three-person crew and has three bathrooms, a fully functional kitchen, air conditioning, a flybridge, a cutting-edge music system, and sunbathing areas. Take advantage of a spectacular sailing experience by boarding the Sura yacht.
Each of the top 10 luxury yacht rentals in Dubai, as chosen by Beno, offers a singular and exceptional experience on the captivating Arabian Gulf. There is a great selection including the black pearl yacht Dubai to fit your preferences, whether you want streamlined and contemporary designs, classic elegance, or high-performance yachts.
Take in the breathtaking sights and make lifelong memories as you cruise down Dubai's famed coastline in the height of luxury, comfort, and perfect service. Your fantasy of a memorable yacht rental experience in Dubai is just a booking away with Beno's luxury yacht rental in Dubai. Prepare to go out on an adventure you will not soon forget while Beno takes your yacht rental experience to new levels of luxury and delight.