Dubai, a city renowned with grandeur and excess, is a haven for aficionados of luxury automobiles. Dubai is a haven for people seeking the thrill of high-end vehicles, with its gorgeous skyline, opulent lifestyle, and desire for the spectacular. Dubai's streets are lined with automotive marvels that reflect both power and prestige, ranging from sleek sports vehicles to opulent sedans.
In the world of luxury automobiles, one brand stands out above the rest: Ferrari. Ferrari emits an atmosphere of luxury and automotive brilliance that perfectly fits the lively and glamorous culture of Dubai, thanks to its famous red coloring, exciting performance, and classic Italian workmanship. Experience the thrill from a luxury car rental Dubai today like Beno!
Ferrari has traditionally been at the forefront of providing unique driving experiences when it comes to automotive perfection. The Italian carmaker is famed for its design expertise, precision engineering, and unrivaled performance. The Ferrari F8 Spider Twin Turbo is a real marvel among its amazing portfolio of cars, combining the excitement of open-top driving with blazing speed and cutting-edge technology.
In this blog, we will go over all you need to know about the Ferrari F8 Spider Twin Turbo before renting it from a Ferrari rental Dubai – from its stunning beauty to its incredible performance.
Design That Demands Attention
The Ferrari F8 Spider Twin Turbo is a stunning vehicle that attracts attention everywhere it travels. It embodies the spirit of a classic Italian sports vehicle with a design that flawlessly mixes beauty and ferocity. The F8 Spider's aerodynamic lines, sculpted curves, and sleek profile give it a distinctive presence on the road.
The F8 Spider's retractable hardtop is one of its most distinguishing characteristics, adding adaptability to the driving experience. The top smoothly folds down at the touch of a button, allowing you to enjoy the excitement of open-air driving. Rent Ferrari Dubai to witness this flawless transformation from a closed coupe to an exciting convertible in just 14 seconds while driving at up to 45 km/h.
Unleashing Raw Power
The F8 Spider Twin Turbo is a genuine powerhouse under the hood. It is powered by a mid-mounted 3.9-liter V8 engine with twin turbochargers. This incredible power plant produces 710 horsepower and 568 lb-ft of torque, propelling the F8 Spider from 0 to 100 km/h in 2.9 seconds. What is the top speed? A whopping 340 km/h.
But the F8 Spider is more than just sheer power. When enquiring about the Ferrari rent Dubai , take into consideration Ferrari's sophisticated engineering expertise. The car is outfitted with a slew of cutting-edge innovations, including a Variable Torque Management system that optimizes torque distribution across the rpm range. Regardless of the driving circumstances, this delivers exciting acceleration and spectacular performance.
Intelligent Handling and Dynamics
The Ferrari F8 Spider Twin Turbo is designed to provide an exciting driving experience through bends as well as straight-line speed. The car has cutting-edge aerodynamics, such as active flaps and a revised rear spoiler, to deliver ideal downforce and stability at high speeds. This translates to improved grip and agility when you rent a Ferrari in Dubai, while tackling curving roads or racing down a circuit.
The F8 Spider also has Ferrari's famed Side Slip Control (SSC) system, which ensures precise handling and dynamic reactivity. This sophisticated computer system continually analyzes numerous vehicle characteristics and actively modifies torque distribution to individual wheels, improving grip and handling. As a result, the automobile seems like an extension of the driver, embodying the Ferrari driving philosophy.
Luxurious Interior & Technological Innovation
When you step into the Ferrari F8 Spider Twin Turbo at a Ferrari rental Dubai, you are welcomed by an interior that emanates both grandeur and sportiness. The inside is painstakingly created from the best materials, including premium leather, carbon fiber inlays, and superb craftsmanship. The ergonomically built seats provide exceptional support, and the driver-centric cockpit locates all controls for convenient access, offering a focused and entertaining driving experience.
In terms of technology, the F8 Spider has a slew of cutting-edge innovations. The infotainment system works in tandem with cellphones to provide connectivity and entertainment on the go. A user-friendly interface, intelligent navigation, and a superior audio system add to the enjoyment and ease of driving.
Owning A Ferrari F8 Spider Twin Turbo
The Ferrari F8 Spider Twin Turbo is more than simply a car; it is a symbol of automotive excellence and an enthusiast's dream come true. Taking an exotic car for rent in Dubai is an experience unlike any other.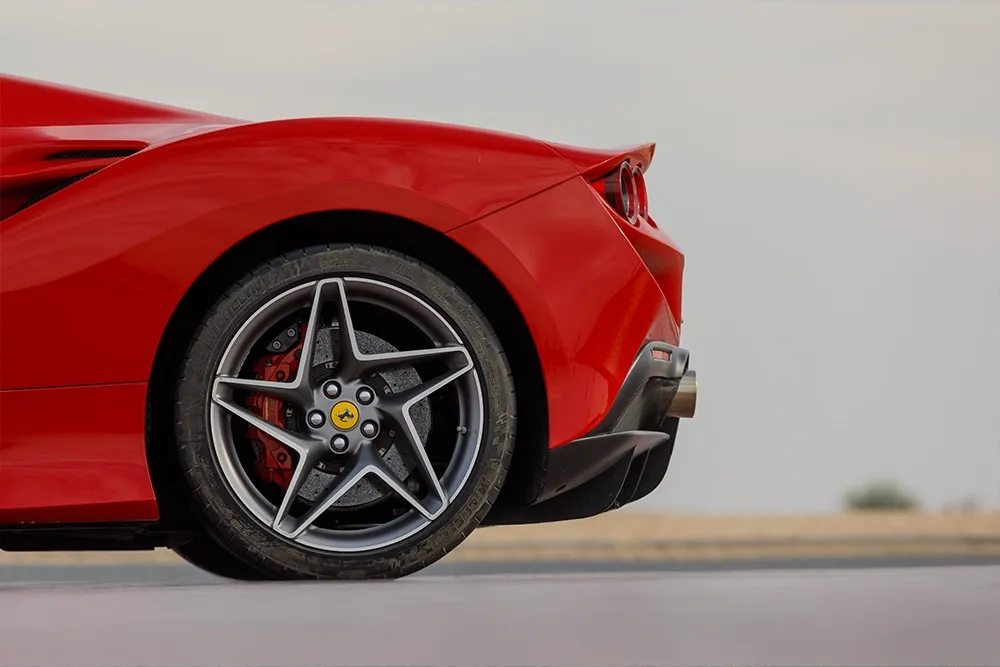 However, concerns such as maintenance, insurance, and servicing expenses connected with owning a high-performance car must be considered.
Regular maintenance and service by certified Ferrari specialists is suggested to maintain the best care and performance. Enrolling in a comprehensive insurance coverage designed specifically for high-performance automobiles will also bring peace of mind and secure your investment.
To conclude, renting the Ferrari F8 Spider Twin Turbo from a Ferrari rental Dubai exemplifies Ferrari's persistent dedication to creating extraordinary sports vehicles that push the frontiers of automotive engineering. With sleek lines and aerodynamic shapes that command the road, its spectacular design draws attention from every aspect.
But it's not just about the looks—behind the jaw-dropping façade is a monstrous performance that exhilarates the senses. The F8 Spider delivers an unrivaled symphony of power, accuracy, and pure driving enjoyment from the minute you push the pedal. It seamlessly mixes sheer horsepower with sophisticated handling, resulting in an outstanding driving experience.
The Ferrari F8 Spider Twin Turbo gives an exceptional driving experience that makes a lasting impact, whether you're drifting along coastal roads with the wind in your hair or tearing across the track. It symbolizes the Ferrari spirit, embodying a tradition of passion, accuracy, and automotive brilliance.
Driving the F8 Spider from a Ferrari rental Dubai is a symphony of emotions, a link between man and machine that elicits sheer delight and exhilaration. It is a marvelous machine that captivates the heart and spirit, leaving an indelible imprint on the memory of everyone who had the opportunity of driving it.