Are you planning a special celebration and looking for a unique and unforgettable experience? Look no further than Beno Yachts, your ticket to exceptional celebrations on the open water. Whether you're celebrating a milestone birthday, a wedding, an anniversary, or just want to create cherished memories, here are six compelling reasons to book Beno luxury yachts Dubai for your next celebration.
Spectacular Scenic Backdrops
Imagine celebrating your special day surrounded by the stunning beauty of the sea. Beno yachts for rent offers you the chance to escape the ordinary and immerse yourself in breathtaking natural scenery.
Whether you choose to cruise along a picturesque coastline or anchor near a secluded island, the backdrop for your celebration will be nothing short of spectacular. The soothing sound of ocean waves and the endless horizon provide an ambiance that simply cannot be replicated on land.
Luxury and Comfort
Beno luxury yachts Dubai take luxury seriously. Their fleet of meticulously maintained yachts is designed for your comfort and enjoyment. You and your guests can relax in style, enjoying spacious decks, comfortable seating areas, and well-appointed interiors. The crew is dedicated to providing top-notch service, ensuring that your celebration is both indulgent and hassle-free. From gourmet dining options to state-of-the-art entertainment systems, every detail is considered to make your experience truly luxurious.
Privacy and Exclusivity
One of the standout features of celebrating with Beno Yachts is the privacy and exclusivity it offers. Unlike traditional venues that can be crowded and noisy, your celebration on a yacht is an intimate affair, with only your invited guests on board. You have the freedom to create a personalized atmosphere and enjoy your celebration without unwanted distractions. It's your own private paradise on the water.
Customization and Flexibility
Beno yacht rental services understands that every celebration is unique. They offer a range of yacht sizes and layouts to accommodate various group sizes and preferences. Whether you're planning a romantic dinner for two or a lively party for dozens, their experienced team can tailor the experience to meet your specific needs. You have the flexibility to choose your itinerary, décor, and even menu, ensuring that your celebration reflects your vision and style.
Unforgettable Memories
A celebration on an exclusive yacht is an experience that you and your guests will cherish forever. The combination of a stunning setting, exceptional service, and the magic of the open water creates memories that stand out from the ordinary. Whether it's a sunset cruise, a moonlit dance under the stars, or a sunny afternoon with friends and family, Beno Yachts ensures that your celebration becomes an unforgettable chapter in your life story.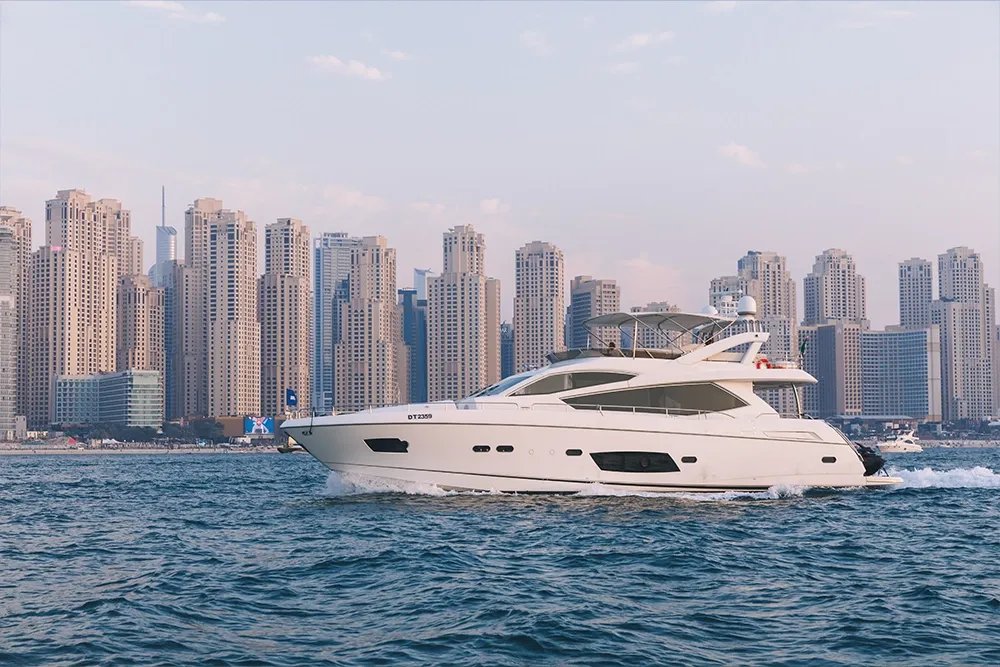 Seamless Planning and Coordination
Planning a celebration can be stressful, but Beno luxury yachts Dubai simplifies the process. Their dedicated event planners and coordinators have a wealth of experience in organizing celebrations on the water. They will work closely with you from the initial idea to the final toast, ensuring that every aspect of your event is executed flawlessly.
You can relax and enjoy your celebration, knowing that you're in the hands of professionals who are passionate about making your day exceptional.
In conclusion, Beno Yachts offers a unique and unforgettable way to celebrate life's special moments. With their yacht rental price Dubai, they offer spectacular scenic backdrops, luxurious amenities, privacy, customization options, and seamless planning, you can trust them to create a celebration that exceeds your expectations.
Booking Beno Yachts for your celebration means creating memories that will last a lifetime, all while basking in the beauty of the open water. Don't miss out on the opportunity to make your next celebration truly exceptional – choose Beno Yachts.